To knowledge center
News
Announcement of the 30th ICDE World Conference 2025: Welcome to Wellington, New Zealand!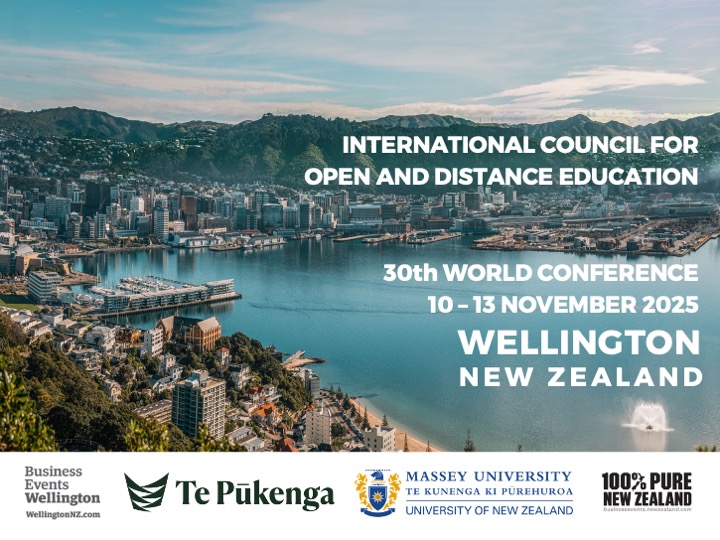 ICDE is delighted to announce that the 30th ICDE World Conference will take place in Wellington, New Zealand from 10-13 November 2025, hosted by Te Pūkenga and Massey University. The announcement was made by Mark Nichols from Te Pūkenga/Open Polytechnic New Zealand during the closing session at the ICDE World Conference in Costa Rica, 9 November.
The theme of the next World Conference is Ako Tuwhera: Open Learning for Open Learners. The theme invites conversations related to equity, artificial intelligence, the Indigenisation of education and education systems.
The biennial event will take place at Tākina Wellington Convention and Exhibition Centre in November 2025 and attract hundreds of international leaders and practitioners in the field of open and distance learning to New Zealand's capital.
ICDE Secretary General, Torunn Gjelsvik says ICDE is excited to be organising the next World Conference in Wellington. "We are excited to highlight the diverse Open, Flexible and Distance Learning experience and knowledge in the region. We need local solutions to help tackle challenges to education on a global level and welcome OFDL experts and enthusiasts to join us in 2025."
Wellington is home to several internationally recognised universities and tertiary institutions, as well as being close to the Open Polytechnic business division of Te Pūkenga and Massey University, where Aotearoa New Zealand's leaders in open and distance learning are based.
The city of Wellington brings together important aspects for a conference of this nature – accessibility, a hub of political and policy decision-makers, a warm and welcoming Aotearoa New Zealand experience, close proximity to the outdoors, and a great launch-point for further exploration. The convention centre, Tākina is also a natural drawcard with its centre-city location and proximity to a vibrant selection of entertainment, restaurants, and accommodation.
Register your interest now! Visit https://www.icdeworldconference2025.com/ for more information and to register for interest.